Medium volume passport production
ART-Line's new approach: The ABIS – Midi Passport Line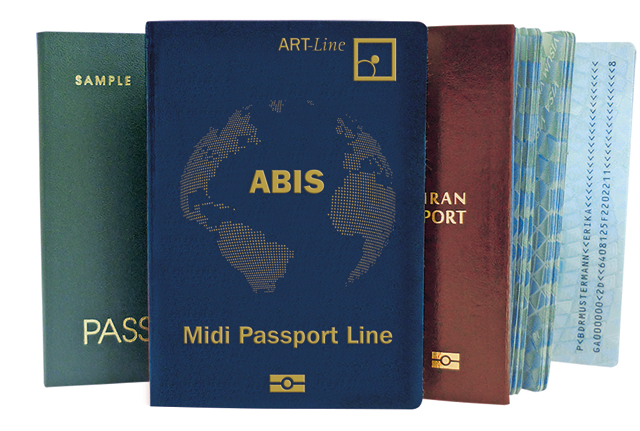 Passport booklets and, even more ePassport booklets, are high complex products with a large number of embedded security features.
The passport is not only the evidence of identity as ICAO is stating this; it represents the cornerstone in secure travel documents. About 1 billion ePassports are circulating, according ICAO estimations. Anyhow, any other not machine-readable booklet became void after the deadline has passed in November 2015. The challenge today is to replace all the MRPs by an ePassport.
Passport booklets exist since almost 100 years, but year by year new features are added. The layout and the size according to the ICAO document 9303, mentioning all the security features, are today an international accepted standard. There are even ICAO compliance interoperability tests because the ePassport should work on all borders.
This is a big success in using this document for easier border crossing worldwide.
With the ePassport another milestone for a safer and more comfortable way of border crossing was achieved. The automatic border control systems are not conceivable without those standards at all.
Security features are embedded in
Design
Print technology
Inks and substrates
Cover material and foils
Sewing threads
Inlay and in the specification of chip
Polycarbonate data pages
Besides these embedded features also the booklet bindery process itself has to be considered as a high security process.
Today the booklets are produced on fully automatic machines manufactured by very few mayor suppliers in this market. The capacities are 3.000 booklets per hour or even more.
But published figures from various sources show that only about 15% of all countries have a yearly volume of more than 1 million passports to issue.
For all other countries our new Midi-sized production offers attractive economic advantage and high production flexibility without renouncing any known security feature.
The ABIS – Midi Passport Line has been invented to close the gap security printers are facing, when they only have medium volume demands but don't want to accept costly over-capacities or buy ready-made products.

Introducing such a semi-automatic passport line package for medium volumes will offer existing Government printers or newcomers a new way to extend their portfolio at reasonable costs and investment; card producers might also go into passport booklet production.
Countries producing their own booklets will create additional value, jobs and will have full sovereignty of their own security document production and will create revenues.
But how exactly is ART-Line's approach now different from existing solutions?
The ABIS – Midi Passport Line is a package of machines with rather easy handling and low maintenance. Approved bookbindery equipment has been adapted to the special demands of high security travel documents. A full passport booklet production department can be installed in an area of less than 300 sqm including a lab and storage. In one shift production a total of 1 million passports per year can be produced by 12-15 people beside the other staff for regular printing department.
The ABIS – Midi Passport Line solution implements a sequence of production steps with single machines instead of incorporating them into an automatic line. This combination of machines offers a broad variety of levels of automation. The crucial processes which are sensitive in matters of precision are performed automatically or optionally with manual feeding by the operator.
Foil stamping

Cover gluing

Sewing
The booklet production starts from the printed sheet and ends with the finished passport booklet according ICAO recommendation, pre-personalised with perforation and numbering.
The modular system of the ABIS – Midi Passport Line allows varying processes and is adjustable to the individual needs of each security printer. Single modules can also be integrated into an existing passport production workflow which allows extending existing lines. Due to the high flexibility of the ABIS – Midi Passport Line, an extensive range of ePassports can be produced and document specification can be changed without effort. The ABIS – Midi Passport Line realises the production of other security booklets for i.e. registration or banking purposes as well and finally, a laboratory package can be included to assure ICAO conformity and durability according to ISO 18745-1.
ART-Line's philosophy has always been to encourage security printers worldwide to start their own production. With this approach, ART-Line creates the opportunity to open the passport production market also for smaller volumes.